Cybercriminals have taken control of almost 12 million new IP addresses in Q1 2009, a 50 percent increase over the previous quarter. The United States is now home to the largest percentage of botnet-infected computers, hosting 18 percent of all "zombie" machines.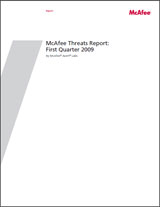 In its latest quarterly global threats assessment, McAfee Avert Labs reports that cybercriminals are building an army of infected computers to recover from last November's takedown of a central spam-hosting ISP.
Download the "Global Threats Report" now.
The report is available in several languages for your convenience.
Please select the language you would like to view below: