Is the age of cyber war at hand? This year, the fifth annual McAfee Virtual Criminology Report contemplates this question and others prompted by the fact that nation-states are arming themselves for the cyberspace battlefield. Dowload the Report Now.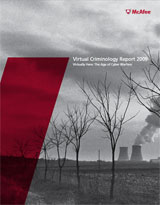 Highlights from the McAfee Virtual Criminology Report:
The number of reports of cyber attacks and network infiltrations that appear to be linked to nation-states and political goals continue to increase.

There is active debate as to when a cyber attack reaches the threshold of damage and disruption to warrant being categorized as cyber warfare.

With critical infrastructure as likely targets of cyber attacks, and private company ownership of many of the information systems in these sectors, private companies will likely be caught in the crossfire.

The private sector needs to prepare for cyber attacks, and those businesses that can weather the storm better than their competitors could be in a position to gain considerable market share.

Click Here to Download the McAfee Virtual Criminology Report Now.